By Fonda Oliphant, Associate Broker, Realty One Group- Signature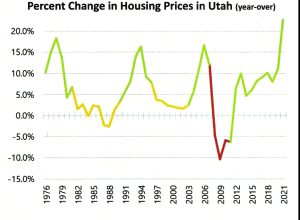 On January 14, I attended the 2022 housing Forecast breakfast which was sponsored by the Salt Lake Board of Realtors. The featured speaker was James Wood, Ivory-Boyer Senior Fellow at the Kem C. Gardner Policy Institute at the University of Utah. I've listened to Mr. Wood's forecast nearly every year since I've been in real estate and have been amazed at how accurately he predicts the housing market.
If you bought or sold property last year you know what a wild ride it was. About 2021 Mr. Wood said, "The 2021 Utah housing market will long be remembered for its record-breaking price increases. Statewide, housing prices increased by 27%, shattering the 43-year-old record of 20.1% set in 1978."
The median home price hit $500,000 in the third quarter of 2021 for the Salt Lake metropolitan area, which includes Tooele County. There is no sign of slowing either. In December of 2021 prices were up 24.3% compared to a year earlier. According to Mr. Wood, "The most likely outcome for housing prices in Utah over the next two to three years is a period of price moderation…An extended period of price declines created by a bursting bubble is very unlikely."
In Summary:
Housing shortage will continue pushing prices.
A housing bubble is very unlikely.
Mortgage rates increase slightly to between 3.55-4%.
Sales repeat 17,000-18,000 transactions.
Housing prices to increase by 10-12%.
Another boom year for Utah's real estate industry.
If you're waiting for the market to go down before you get in, you'll be left on the sidelines. Don't wait! Call me today, 801-554-6051, so we can make a plan to get you moved this year.